Tuesday, January 27, 2009 5:24 pm
The 2009 Odyssey Award for Excellence in Audiobook Production winner & honor titles
Posted by: Mary Burkey
On Monday, January 26th, the following titles were announce at the Youth Media Awards ceremony at the ALA Mid-Winter conference as this year's top audiobooks. For a complete listing of all award winners, including a video, go to www.ala.org/yma Congratulations to the publishers, directors, authors, and narrators of these wonderful productions, and to the Odyssey Award Committee and chair Pam Spencer Holley for their careful consideration and immeasurable hours under the headphones! These are the very best in audiobooks, essential purchases for every library, must-listens for audiobook fans, and the perfect titles to convert newbies into audiobook aficionados!
Odyssey Award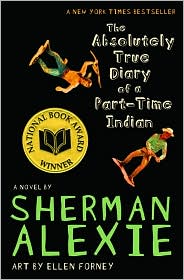 "The Absolutely True Diary of a Part-Time Indian," written and narrated by Sherman Alexie, produced by Recorded Books, LLC
Odyssey Honor Audiobooks
"Curse of the Blue Tattoo: Being an Account of the Misadventures of Jacky Faber, Midshipman and Fine Lady," written by L.A. Meyer, narrated by Katherine Kellgren, produced by Listen and Live Audio, Inc.
"Elijah of Buxton" written by Christopher Paul Curtis, narrated by Mirron Willis, produced by Listening Library, an imprint of the Random House Audio Publishing Group
"I'm Dirty" written by Kate and Jim McMullan, narrated by Steve Buscemi, produced by Weston Woods Studios, Inc./Scholastic
"Martina the Beautiful Cockroach: A Cuban Folktale" written and narrated by Carmen Agra Deedy, produced by Peachtree Publishers
"Nation" written by Terry Pratchett, narrated by Stephen Briggs, produced by Harper Children's Audio/HarperCollins Publishers